Zhusupbek Aimautov
The first wife of Zhusupbek  Aimautov  – Volkova Vera Alexandrovna (years of life and death are unknown)
Zhusupbek Aimautov met his wife Vera Aleksandrovna Volkova in Orenburg. Vera Alexandrovna was Russian by nationality. Children of Zhusupbek Aimautov and Vera Aleksandrovna are sons Bektur and Zhanak. He loved his wife and his sons very much. He named his sons by  beautiful and sonorous names. He dreamed that when his sons grow up, they will become his strong support.
For the first time he married Vera Volkova in his youth, but his wife left him. She was frightened because  Aimautov was persecuted by the powers. There is a version that Vera Aleksandrovna decided not to expose herself any more to danger and left her husband and sons and after one of these interrogations went to Orenburg. After the divorce, Zhusupbek Aimautov brought 4-year-old Bektur and one-year-old Zhanak to his brother Zhakypbek. Nothing is known about the further fate of Vera Volkova. The writer and his two sons moved to Bayanaul, where he settled not far from his relatives.
Son of Zhusupbek Aimautov – Bektur (1916 – date of death unknown)
Life scattered the children of the repressed writer in different places. The eldest son Bektur felt hardships and suffering a lot.
As a child, Bektur drew well and also excelled in physics and mathematics. He was taught by  Gulnara Dulatova, the daughter of Mirzhakyp Dulatov at school
When Bektur and Zhanak were small, the famous Mashhur Zhusup Kopeev came to them, stroked their heads, caressed them and knew their condition. There is a poem by Mashkhur Zhusup Kopeev, which begins with the words "Zhusupbek, Bektur, Zhanak, God bless you!."
After the arrest of his father, Zhusupbek Aimautov the Aimautovs took refuge in their uncle's family, first in Shymkent, and then in Aktobe.
In his memoirs, Bektur Aimautov said: "After the persecution of his father, it became very difficult to live in the house … It was a time of famine. Stepmother Evgenia Kirilovna got a job at the main pharmacy of Kyzylorda. She was a pharmacist by profession.
In large cities, mass schools of FZO (factory training) were opened. My stepmother called me and said: "Times  changed. It's time to take care of yourself and to begin to work. You need to get an education. Taksira Baktygereevna is going to Ufa tomorrow. You will also go to Ufa. She will help you get into the FZO. Here was a danger of persecution and so I went to Ufa.
I entered the FZO and studied  by profession of  electrician for three years. At the same time, the family moved to Shymkent. I found a job and gave my first salary to my stepmother. I was happy about that. "
Bektur was persecuted as a "child of Alashorda" and left  the city for Turkmenistan. While studying at the veterinary-pedagogical college, he said: "The Red Army is coming again, it has come to Shymkent. He again had to leave for Kazan.
In Kazan he graduated from a special school that trained representatives of working specialties. He studied with Russian engineers who arrived in Ufa from Moscow. Thanks to his hard work, he perfectly mastered this profession. He became one of the hundred best electricians in the Soviet Union, participated in the competition, and was the best among the participants.
On October 12, 1936, he began to work at the Kazan Aviation factory named after S.P. Gorbunov. At the time, it was the most powerful aircraft factory in the world. His life just began to improve, his salary rose. In 1937 he was persecuted due to denunciation. On December 30, 1937, Bektur Aimautov was sentenced to 10 years of prison. In Kazan, he worked as an electrician at a military factory.
Only in 1965 he married a Russian girl  Evdokiya. She was born in 1935,  their son Victor was born in 1966 and then a daughter Rima was born later. The son studied at the Kemerovo Polytechnic Institute. His daughter Rima married a Latvian.
In 1994, at the age of 78, he came to his native place Bayanaul, to Kazakhstan to pay tribute to the spirit of his ancestors. He came to his native village and got acquainted with the places where his father was born and lived.
Bektur did not communicate with his brother Zhanak and his sister Muza for many years. Bektur Zhusupbekovich lived for two years in a nursing home in Almaty.
Son of Zhusupbek Aimautov – Zhanak (1920 – date of death unknown) 
Aimautov's second son Zhanak was born in Semey on February 18, 1920. Zhanak was also forced to change his name and became Evgeny Yurievich. But he  also was  persecuted. In 1941, he is as "the son of an enemy of the people" and was sent to the labor army. After the war he felt constant fear of persecution, difficulties in everyday life. After graduating from the Aktobe Institute of Teachers, he continued his education at the Physics and Mathematics Faculty of the Kazakh State University named after Al- Farabi.
Zhanak wrote: "My father is a real person, citizen, public figure. I am proud that he was a talented writer, exemplary teacher, poet, translator"
Zhanak lived in the village of Novopavlovka, near Bishkek, Kyrgyzstan.
Zhanak's wife Vera was  Russian by nationality. Two daughters Valentina and Nadezhda lived in Moscow. Son Vladimir was an officer in the Leningrad Military District.
The second wife of Zhusupbek Aimautov – Sermukhamedova Evgenia Karabatyrovna (1897-1987)
Aimautov met the mother of his future daughter Muza in Kazan. She became his last love. His second wife Evgenia Karabatyrovna Sermukhamedova had  Russian  mother and Kazakh father. She was the daughter of the famous veterinarian Karabatyr Sermukhamedov. Aimautov with Evgenia went to Shymkent. Here he was removed from the newspaper "Ak Zhol", he worked in a pedagogical college.
At that time, their sons Bektur and Zhanak brought up by their father Zhusupbek and Evgenia Karabatyrovna.
After the execution of Zhusupbek in 1931, Yevgenia Kirilovna got a job as a pharmacist in the main pharmacy of Kyzylorda.
Evgenia Karabatyrovna kept family photographs and personal belongings of Zhusupbek for a long time. In 1991 she went to Pavlodar and handed these things over to the Literary and Art Museum named after  Bukhar Zhyrau.
Daughter of Zhusupbek Aimautov – Magripa (Marua, Muza) (1926)
The writer's daughter Muza Zhusupbekovna (Marua (Magripa) was born in Orenburg on May 3, 1926. Although  Muza Sakhno was only four years old  in 1929, she clearly remembered how her father was arrested, how the whole house was turned over.
"I knew from my mother that my father was an unusually talented person. I remembered, that the father set at the table,  he worked, a lamp with a green shade was on the table-"said Muza Zhusupbekovna. There were many photographs of daughter Muse with her father at home. For a long time, children's ichigi (Tatar national boots) were kept. They were made by Zhusupbek Aimautov his own hands. This is a real work of art: miniature leather ichigi with shoes, the heel of which is made of bone covered with leather. My father had golden hands, he perfectly carved wood. His love for children was showed in the publication the first children's books for Kazakh children by Aimautov. His  fairy tale "Malachai" ("Hat") was reprinted in our time.
After successfully studying at school, she decided to follow the  trade -union line. She entered the Tashkent Higher Trade-Union School, then continued her studies at the Moscow Higher Trade Union School at the All-Union Central Council of Trade Unions. She received the specialty of a labor economist. She worked as the head of the department of corporation "Aktyubrentgen". She was the chairman of the regional committee of the trade union of workers of geology. She married Stepan Stepanovich Sakhno from Lvov. He was a economist by profession and came on a mission to an oil exploration expedition to Aktobe. They have two daughters Natalia and Tatiana. Now the children have children and grandchildren Olya, Sasha, Anna and Maria.
Grandchildren of Aimautov live in Kazakhstan, Russia, Moscow, St. Petersburg.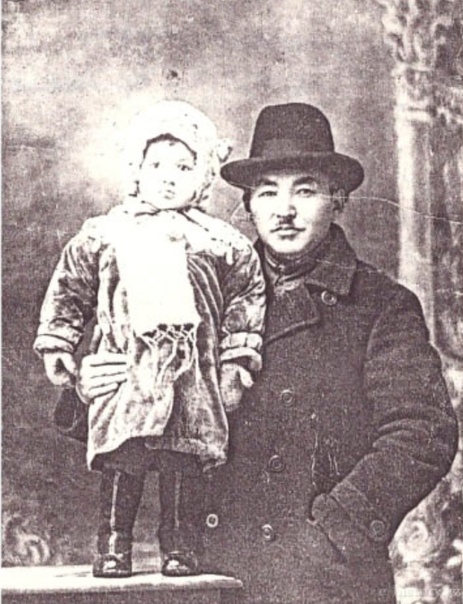 Bibliography
Alibekova R. The image of her father illuminates her life // Kazakhstanskaya Pravda. – 2000 .- Dec 6. – P. 4.
Gorbunov S. Honors to the patriotic writer: (The burial place of the repressed writer Zh. Aymauytov was found) // Kazakhstanskaya Pravda. – 2014. – July 26. – P. 8
To the annuversary of Zhusupbek Aimautov // Prostor.-№12.-P.12
Kazakhstan: national encyclopedia / Editor B. Ayagan. Almaty: Kazakh encyclopedias, 2004.- P.124
The Red Terror: from the history of political repression in Kazakhstan / M.K Koigeldinov, V.I Polulyakh, Sh.B. Tleubaev. Publishing house" Alash", 2013.
Nurgali R. Kazakh literature: concepts and genres. Astana: Folio, 2010.
Otegenova Zh.Zh. Leaders of the party "Alash": Methodic recomendations // History of Kazakhstan: teaching at school. -2014. -№7.-P.25-28
In memory of Zhusupbek Aimautov // Kazakhstanskaya Pravda.-1989.-15 October
Sultanbekov M. Zhusipbek Aimautov // Vesti Semey. -2014. -27 May.-P.5
Sultanbekov M. Blue meridian. Alashorda. Attila. Semey: PC "Semey-Print", 2013.
Sultanbekov M. Three falcons of Kazakh literature // Vesti Semey. -2016. -31 May. -P.5
Uteubaev M. Wishing happiness to the people: [to the 125th anniversary of the writer, journalist, teacher, public figure Zh. Aimautov] // Kazakhstanskaya Pravda.- 2014.-17 January- P. 20
Links to Internet resources