Abayuly (Kunanbayev) Turagul (1875-1934)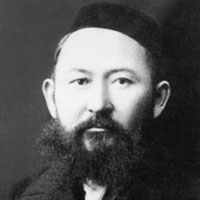 Turagul Abayuly Kunanbayev  is the youngest son of Abai, he is known, first of all, as his biographer, translator.
Turagul Kunanbayev received a all-round education, he knew Russian, Arabic. Since childhood, he has studied  the musical and poetic works, created by Abay Kunanbayev.
Turagul Abayuly was born in Abay region of the East Kazakhstan oblast in 1875 . He died in 1934 in Shymkent. He is a poet, translator, public figure. He was closely acquainted with the members of Alashorda A.Bokeikhanov, M.Dulatov, Zh.Aymauytov. Turagul together with his grand-nephew Kakitaii Iskakuly first published poetic collection of Abai  in St. Petersburg in the 1909 year. Turagul Kunanbayev made a lot  to preserve the works of Abai. He made an invaluable contribution to compile of his biography. From 1922 he was engaged in creative activity.
Among his many works, the most valuable work is the book-recollection "About Father Abay", written at the request of M. Auezov. Turagul made a detailed description of Abai's life and work. He created poems "I asked the day to Allah ", "Letter", " To Abish", "Reply letter", etc. The main part of the works of Turagul are  the translations of fiction.  He  translated Gorky's  story " Chelkash" into Kazakh and  published in  journal  " The Tan"  in 1925. Stories by A.Neverov "Mary-is the Bolshevik", "I fall in love with life" were translated by Turagul and   appeared as a separate book in Moscow in 1927. He translated the works of Jack London "Eskimo Kish", "Martin Eden" (the manuscript is not preserved), of  B. Proust  "Antek". His poems, the translation of  Gorky" Chelkash", the memory "About  father Abai", the research about Abai were included in the collection "Pupils-poets" (1993, the first volume.). The memory  " About father Abai" was published as a separate book edited by B. Baigaliev.
In the late 1920s his family was convicted and exiled to the Syrdarya district, and his son was shot as an enemy of the people. Turagul himself lived in Shymkent in recent years. In 1934, Turagul died of a serious illness in Shymkent. Unfortunately, the he tomb of Turagul  was not preserved, because the territory of the old cemetery was later built up by the buildings of the Shymkent Chemical Plant.