Sabatayev Satylgan (1874 – 1921)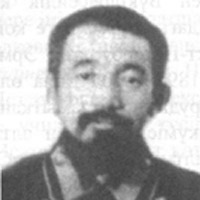 Satylgan Sabatayev is a public figure, the first Kazakh agronomist, an Orientalist, translator, an Alash movement figure.
S.Sabatayev was born in 1874 in the Vernensk district of the Semirechensk region in an ordinary Kazakh family. He lost his parents early and from childhood knew need, but thanks to his natural abilities in 1885 he entered the Vernensk male Grammar School. After graduation from the male Grammar School, Sabatayev entered the Moscow Institute of Oriental Languages, graduating in 1895. In 1899-1901 he worked as an interpreter in the Pishpek and Zharkent County offices, for a time served as a city bailiff Zharkent. In 1906, Sabatayev moved to work in the Semirechensk regional migration department and in the same year in November he transferred to the main department of agriculture and land management of the Semirechensk region. Two years later, in order to obtain special knowledge in this field, he entered the Moscow Agricultural Institute and in 1915 he graduated from it. Thus, he became the first Kazakh scientist-agronomist who received higher education. After graduation, he works in agricultural institutions in the Semipalatinsk region – Urdzhar and Karkaralinsk.
Sabatayev is an active participant of the Alash movement. At the 2nd All-Kazakh Congress, which was held from December 5 to 13, 1917 he was elected as a member of the Alash Orda government. In January 1918, he participated in the 2nd congress of Kazakhs in Zhetysu region in the city of Verny. Fearing the actions of the Alash intelligentsia and the Kazakhs in Verny, on March 9, 1918, the Bolsheviks arrested the Alash leaders O. Alzhanov, I. Zainakov and S. Sabatayev. On April 17, he was released from prison and moved to Semipalatinsk, where he was engaged in zemstvo affairs and the "Alash" party. At the Zhetysu regional congress of Alash Orda, held on August 10-31, 1918 in Lepsin district, was elected as a member of the regional committee. He took an active part in the formation of the 1stAlash military regiment in Semipalatinsk. On November 1, 1918, the board of the Alash Orda received permission from the Siberian government to appoint Sabatayev as the chief specialist in agriculture. After the establishment of Soviet power he worked in the specialty in Karkaraly. During his studies at the Lazarev Institute, Sabatayev took part in the imperial collections of nature lovers, anthropologists and ethnographers at the Moscow University, delivered scientific reports on the topic "Conducting court cases against Kazakhs", "Court of Elders and Kindred among the Kazakhs of Kostanay County of Torgay Region". Sabatayev is one of the first translators of Abai and M. Dulatov into the Russian language. In the collection Al-Sharkiyat, published in Moscow in 1914 in memory of the well-known Oriental scholar A. Veselovsky, Abai's verses "Zhaz" ("Summer") and M. Dulatov's "Moon" ("Sadness"), which were translated by Sabatayev.
In 1921 S.Sabatayev died tragically in the course of his official duties.