Zhansha Dosmukhamedov(1886 – 1932)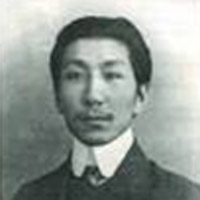 Zhansha Dosmukhamedov is a leader of "Alash" movement, a lawyer.
Dosmukhamedov was born in West Kazakhstan oblast in 1886. In 1912 he graduated from the law faculty of St. Petersburg University. In the 1912-1917 he worked in the Tomsk district court. He was a chairman of the Ural Regional Kazakh Committee, and in 1917 he participated in the all-Russian Congress of Muslims in Moscow, where he was elected as a Deputy Chairman of the Russian Board of Muslims. He participated in the preparation of the draft law on the Constituent Assembly of the Interim government. He became a member of the Alash Orda government enshrined at the 2nd all-Kazakh Congress, which was held in December 1917. In 1918 – 1919 he headed the Western branch for Alash Orda. In March 1918, together Khalel Dosmukhamedov he participated in the talks with V. I. Lenin and I. V. Stalin. He made a great contribution to the development of national culture, domestic science and education. In 1922 and 1925 he was a member of the society for cultural development "Talap". He translated civil and criminal codes into the Kazakh language. "Penal code" — "Zhauyzdyk nizamnamasy" translated by Zhansha Dosmukhamedov, published in 1000 copies.
The first arrests were made in 1928-1931, and then link in various regions of Russia. Served their sentences and returned home he was again arrested in 1937-1938. Most of them were shot. The indictment stated: "terror against the Soviet government and its Communist party, against the leaders of the All-Union Communist Party (Bolsheviks)" or simply "enemy of the people", and more. The case was called "bourgeois nationalists".
Zhansha Dosmukhamedov, like all former leaders of the "Alash Orda", was repeatedly arrested and was shot during Stalin's terror.
"Alash" movement and the activities of its brightest representatives, including Zhansha Dosmukhamedov, left a noticeable trace in the political history of Kazakhstan of the XX century. Dosmukhamedov, who led the "Alash" movement in the West, was the leader of the most advanced part of the Kazakh intelligentsia of the early XX century.