Birimzhanov Akhmet Korganbekuly (1871-1927)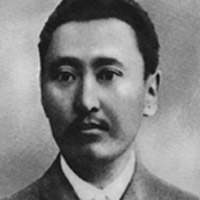 Birimzhanov Ahmet Korganbekuly is a public figure, a member of the Alash Orda government, a descendant of Zhanibek Shakshak. He is the first Kazakh, who twice was a deputy of the Russian State Duma, defended the interests of his people in the parliament.
Akhmet was born in 1871 in the former Torgay district of Torgay region. In 1891, right after graduating from the Grammar School in Orenburg, he entered Kazan University and graduated from the Faculty of Jurisprudence in 1899 with a gold medal. In the same year 1899 he worked in the Orenburg and Troitsky district courts, as well as in the Aktyubinsk, Turgay, Buzuluk County courts. Wherever he was, he tried to protect the interests of ordinary and poor people. In 1906 and 1907 from the Kazakhs of the Turgay region he was elected as a deputy to the 1st and the 2nd State Duma of Russia. In the Duma he was deputy chairman of the Muslim faction, he defended the interests of the national regions of Kazakhstan. Since the spring of 1917 – Birimzhanov Akhmet was the Commissioner of the Provisional Government of the Kustanay County. At the 2nd All-Kazakh Congress was elected to the National Council of Alash Orda. In December 1917, he was one of the 14 members of the Turgay regional committee of the Alash Party. Alimkhan Yermekov, one of the leaders of the Kazakh people, wrote in the newspaper Saryarka on January 22, 1918: "… On December 12, at noon, Alash autonomy was born at three o'clock in the afternoon, it was given a name. For the sons of six Alashs the White Orda was woven, and the banner of Alash was raised. "In the same year, Akhmet Birimzhanov was elected to the fourteen representatives of the Alash party in the Torgay region. In 1918 – 1920 he was legal adviser in Semipalatinsk, in 1920 – 1926 he was an adviser, a member of the collegium of the Supreme Court, was in charge of the department of the People's Committee of Internal Affairs in the cities of Orenburg and Kyzyl-Orda.
Akhmet Birimzhanov died on November 5, 1927, was buried in St. Petersburg at Volkov Cemetery.