Amanzholov Sadyk (1889-1941)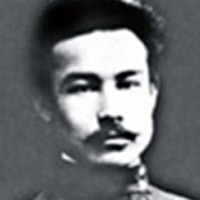 Amanzholov Sadyk Ayukeevich (1889-1941) – politician of the Alash movement, lawyer. He was born in Verny county, Bakai volost of Zhetysu region (now Chilik district of Almaty region).
In 1898-1907 he studied at the gymnasium in  Verny (now Almaty).In 1907-1912 he studied at the law faculty of the Kazan Imperial University. The young lawyer started working in the district court in Verny. Then, he worked as a legal mediator in Sarkant. He also worked in  Lepsy. From 1914-1918 he worked as a legal mediator in Sergiupol (now Ayaguz). After the revolution, he was the head of a committee in the Urzhar district. In 1917, on July 21-26, he participated in the first All-Kazakh Congress of Alash Orda in Orenburg. He was elected a deputy of the All-Russian Congress. In the same year, on December 5-13, he took part in the second All-Kazakh Congress of the Government of the Alash Orda in Orenburg. Here he is a member of the Government – National Council from the Zhetysu region. He participated in the creation of local organizations of the Alash Orda, led the police institutions in Zhetysu. In Lepsy, he was elected a member of the regional council at the II Zhetysu regional congress in August 1918. After  the transfer of power to the Bolsheviks, the Zhetysu branch of the Alash Horde moved to Shaueshek.  Amanzholov S. was engaged in the creation of a military group in Shaushek.
During the famine, he helped together with Bazarbay, Mametuly to the people with food and strengthening the sedentary lifestyle. In August 1918, during a battle with the Bolsheviks, he was seriously wounded. In 1918-1922 after a change  the situation, he returned to his homeland .
In April 1918, A. Baitursynov, M. Dulatov, R. Marsekov came to Shaueshek, where they held discussions with representatives of the local intelligentsia about the future of the nation and  the important problems facing the people. Sadyk Amanzholov also took part in them.
In March 1923 he worked in the Zhetysu regional executive committee. In 1924 he was a responsible worker in the Zhetysu regional court. Then, until 1930, he worked in the Legal People's Committee of the Kazakh ASSR. In 1929-1930, when the leaders of the Alash Orda were massively accused of political activity allegedly against the people and were arrested, he left and worked in Moscow, Bishkek and Tashkent. In 1941 he died in Tashkent.