Ipmagambetov Nurgali (1883-1922)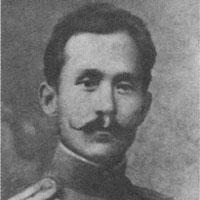 Ipmagambetov Nurgali Ipmagambetovich was born in the Urals uyezd  in 1883.  He died on August 13, 1922. He was a member of the Ural Regional Kyrgyz Committee No. 1.
He graduated from the Urals military real school, the St. Petersburg Military Medical Academy. He was a lieutenant colonel. He was a member of Alash Orda, Regional Health Commissioner. He was a delegate of the II All-Russian Congress of Peasants' Deputies, member of the executive committee. He was deputy of the Ural Regional Council. In 1918 he was a member of the Committee of the Constituent Assembly. Then he moved to the Red Army, joined the CPSU (Communist Party of the Soviet Union), he  was a member of the Kazakh Revolution committee , the Revolutionary Committee of the Urals oblast.