Tolebayev Myrzakhan (the date of birth is unknown – the date of death is unknown)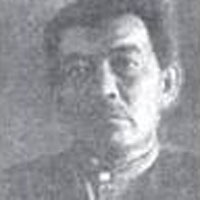 Myrzakhan Tolebayev is a participant in the Alash movement.
M.Tolebayev was a member of the community of the Kazakh youth of the enlightenment-democratic direction "Erkin Dala" ("Free Steppe"), a delegate from Zhetysu region at the All-Kazakh Congress held in Orenburg on July 21-28, 1917. He was nominated as a candidate for deputies to the All-Russian Kurultay. Member of the Kapal county council of Alash Orda, assisted in the formation of local Alash militia. In 1918-1920 Tolebayev organized the Kapal Committee. On February 27, 1913, in connection with the 300th anniversary of the Romanov dynasty, an agricultural exhibition was opened in Verny, where he took part in the design of the exposition: the traditions, customs and life of local Kazakhs.