Imangaziev Tolegen (1874-1938)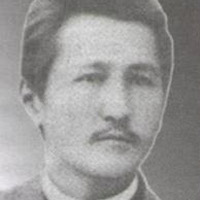 Imangaziev Tolegen is an educator, a member of the Alash  movement, a member of the Alash Party, the Western Alash of the Orda.
He is a  native of the Ural oblast. He graduated from the Urals  two-year Russian-Kazakh school, Orenburg school for teachers of Russian-Kazakh schools. He worked as a teacher of the Russian-Kazakh school of the Auliekul volost, Alshynbay aul of Torgai oblast, a teacher of preparatory classes for the Orenburg school for teachers of Russian-Kazakh schools,  a  manager of the Sonali volost of Zhympytinsky uyezd, a  teacher of the Alash  police in Oiyl,  a teacher of the Zhaksybay secondary school.
He actively participated in the creation of the self-government system after the February Revolution of 1917, Zemsky educational and enlightenment affairs, was a member of the educational and educational committee of Western Alash Orda. He was a delegate of the 3rd Ural Regional Kazakh Congress in 1918.
He was arrested for "agitation of pan-Islamism, connections  with religious figures K. Kuanyshkaliev, H. Nurmuhamedov, on February 2, 1938. He was  an active member of Alash Orda" in the Karatobin RO of the NKVD of the West Kazakhstan oblast. He was convicted by a troika under the NKVD for WKO on February 14, 1938. He was charged under articles 58-2, 58-11 of the Criminal Code of the RSFSR. He was shot in 1938.  He was rehabilitated  by the Oblast Court of the West Kazakhstan region  for lack of an event of crime  on September 21, 1961.