Esengulov Gumar (1886-1930)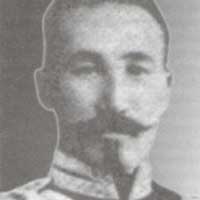 Esengulov Gumar Kozhahmetovich was born in the uyezd of Temir of the Ural oblast on May 15, 1886.  He was an activist of the West Kazakhstan branch of Alash Orda. He is one of the first doctors with higher medical education. G.Esengulov after finishing of regional Russian-Kazakh school and after finishing of Romanov Russian-Kazakh school  has entered the Ural real military school. He entered together with classmates B. Bisenov and Y. Shugylov the medical faculty of the Saratov University in 1910 . After graduation in 1914-1916   he works as a resident physician in the Zemgorsk Union of Infirmaries of the city Saratov. In 1916 he worked as a doctor of an ambulance station of   Orenburg.
In early April 1917 he participated in the congress of Kazakhs of Torgay and Ural oblats  of Orenburg.
He was a member of the Bureau of the organizers of the congress, he prepared important urgent questions, elaborated the place and time of holding meetings, disseminated announcements. He participated in the 1st Kazakh Congress in Uralsk.  He was elected a member of the Zhayik external Kazakh committee.
Yesengulov Gumar worked as a doctor-epidemiologist in the uyezd of Temir. In January of  1920  Gumar Yesengulov was on the recommendation of N. Kalmenova  a head of the health department of the epidemiological unit. By decision of the  CPSU (Communist Party of the Soviet Union)   of the Kazakh regional bureau from June 1920 year he is elected a member of the executive committee of the Orenburg-Turgai province. Since 1925 he worked as a doctor-therapist in the central dispensary of Aktobe.
In 1929 he was arrested and sent to Voronezh. In the 1930 year he returned to home and died when he worked as a doctor.