Mirzhakip Dulatov
Gainizhamal Dosymbekova – Dulatova (1895-1940)
Gaynizhamal's parents are Baymurat and Kanipa. Baymurat Dosymbek was a doctor, he lived in, in a wooden house, not far from the grain market, in Lyubinsky Avenue (now Lenin Avenue)  of Omsk. The Dossymbekovs had three daughters: Sarah (1892-1972), Gainizhamal (1895-1940), Gulshakhra (1900-1933). After the death of their father, their uncle (Omatai) took care of their mother and sisters. Sarah and Gainijamal studied with a teacher at the  home, and the youngest daughter graduated from the gymnasium in 1917.
Gainijamal met Mirzhakip Dulatov at the age of 19. Erkasai introduced his daughter-in-law Gainijamal with Mirzhakip. In Omsk, among like-minded people: the families of the brothers Asylbek, Musilmanbek (Musi), Muratbek Seitov, the Koshke Kemengerov, the family of Mukushev, Sultan, the eldest son of Akhun Galim Abdrakhimov, the imam of the mosque of Omsk, and his mother Urdafi, 29 year old Mirzhakip Dulatov met Gainijamal . These meetings grew into love between two young people.
Before marriage, Mirzhakip said to the future bride: "Gaya, we need to solve many issues before our marriage. You should think about your fate and future, about your life as my future wife, and then not regret it. I cannot say that I will offer an easy life for you. I will not refuse my ideas , I want to achieve this, I want to fight for my people, if necessary, I will do my best. There are many difficulties and suffering ahead. Can you bear it? Think about it". Gaya understood  everything and, without hesitation, entrusted her fate to her future husband and made a promise.
Brother of Gainizhamal Omatai organized the wedding of the young couple at the Kolomzino station of Omsk on May 14, 1914. The wedding was visited by M. Zhumabaev, the Seitov brothers, S. Seifullin, K. Kemengerov, Mukushev. The poet's only daughter, Gulnar Dulatova, wrote about these memories of her mother: "Our wedding took place in the restaurant of the Kolomzino station, not far from Omsk. After the wedding we, immediately went without stopping in Omsk to Orenburg. "
The first daughter of the Dulatovs Gulnar was born – in 1915, then Abylai was born in 1917, Khalida was born in 1920, Nauryzbai was born in 1924, Alibek- in 1925. Although photographs of some of the poet's children have survived, their lives were not long. Except for Gulnar, all children died in childhood . When her father was arrested in 1928, Gulnar was only 12 years old, but she collected all her father's legacy in one box and kept them secret.
In prison, Mirzhakyp Dulatov wrote a letter with a request to help him get permission to meet with his wife Gainizhamal to Gorky's wife E. Peshkova. Two months later, he received permission to meet. In 1934, Gainijamal with great difficulty reached the island of Sosnovets. Their son Alibek was with her. Mirzhakip felt that she was in a difficult situation and advised Gainijamal to return to the country.
For them 1935 was a year of tragedy. Their son Alibek died of illness. Akhmet Baitursynov (who had just returned from exile in Arkhangelsk) came to Gainizhamal and said excitedly: "Gaya, my dear, I share your grief. The flower dried up prematurely and fell … May the future be good. Do not write about the death of Alibek to Mirzhakyp. He will suffer, get sick. Let him hope that his son and daughter will be behind him. "
In November 1935, the NKVD received a message about the death of M. Dulatov, who died in hospital. Then he was only fifty years old, he spent thirty years in exile. Gainijamal survived him for a short time, she died in 1940. After her death their daughter Gulnar servived.
 Children: Gulnar Dulatova (1915-2013)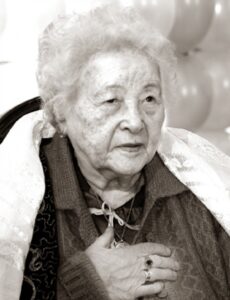 Gulnar Dulatova is the eldest of the five children of Mirzhakyp Dulatov and Gainizhamal Dosumbekova-Dulatova. Gulnar Dulatova was born in Orenburg on November 4, 1915.  She saw glory, and tragedy, and the rebirth of her father's name. Having lived her entire adult life with the stigma of the daughter of an "enemy of the people", she never doubted  that justice and the good name of Dulatov and his associates would shine in the history of Kazakhstan. The fate of her father, whose name was prohibited  for 60 years, became a guiding star for Gulnar Dulatova.
After graduating from the Almaty State Medical Institute in 1939, she worked as a dermatologist for 48 years.
Gulnar Dulatova married the writer Aben Satybaldiev. Her dream of a scientific career was realized by her eldest son Nurlan Satybaldiev and her youngest daughter, Doctor of Medical Sciences, Professor Zhannat Satybaldieva. The youngest son, Yerlan, is a well-known publisher, journalist and writer in the Kazakstan today. The eldest daughter, Dina, lived most of her life in Tashkent.  Later she moved to Almaty, she lived with her mother.
In 1988, during the period of perestroika and democratization of society, Gulnar Dulatova began an active literary and social activity. She was the initiator of the rehabilitation of prominent representatives of the Kazakh intelligentsia of the early twentieth century. For the first time, she sent materials on political rehabilitation of such figures as Alikhan Bukeikhanov, Akhmet Baitursynov, Mirzhakip Dulatov, Zhusupbek Aimauytov and others  to the Committee for the Political Rehabilitation of Victims of Stalinist Repression under the Central Committee of the CPSU. (Communist party of Soviet Union) After their political rehabilitation, G. Dulatova donated many exhibits to the museums of Kazakhstan:  pre-revolutionary books, personal belongings, photographs, letters and other documents of great historical importance.
Thanks to her  large efforts the heritage of Mirzhakyp Dulatov  has not been forgotten. Thanks to her excellent knowledge of three languages – Kazakh, Russian and Arabic – she prepared and published a five-volume collection of her father's works and three books of her memoirs about the time in which she lived herself.
Dulatova is compiler of several editions of M. Dulatov's works ("Oyan, Kazakh!", "Selected Works", collected works in two and five volumes).
She has published many articles, sketches, essays. In 1995, the book of memoirs "Light of Truth" ("Shyndyk shyragy") was published. In 1999  a continuation of the previous edition of "The Light of Truth" was published in two volumes. In 1993 she was awarded the 1st prize of the "Kazakh Adebieti" ( " Kazakh literature")  newspaper for the best essay of the year.
Dulatova gave help in literary, historical and ethnographic researches of scientists of Kazakhstan and foreign countries. So, she took part in the work of such researchers of literary and history Tomohiko Uyama (Japan), Isanbike Validi Togan (Turkey), Hasan Oraltai (Germany), Marat Absemetov, Sabira Imanbaeva (Kazakhstan).
Gulnar Dulatova died at the age of 98 in February 2013.
Literature
Dulatova G. Shyndyқ shyraғy.( "Light of Truth")Almaty: Mektep, 2013
Source: https:// history.kz