Aimautov Zhusupbek (1889 – 1930)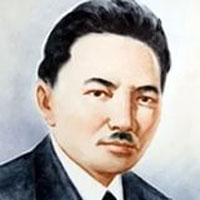 Zhusupbek Aimautov is one of the classics of Kazakh literature, a man of multilateral interests, an educator, poet, writer, scientist,  novelist, prosaic, playwright, publicist, translator, literary critic, linguist-researcher, psychologist, journalist, teacher, political and public figure.
Zhusupbek Aimautov was born in the village of Kyzyltau of the Pavlodar uyezd  of Semipalatinsk gubernia (now Bayanaul district of the Pavlodar oblas) in 1889.
While still a seminarian, he was in the national-democratic party "Alash", in which he was from 1917 to 1919. He was an active member of the leadership of the Alash Orda Party  with A. Baytursynov, M. Dulatov, and other prominent figures of the national liberal-democratic intelligentsia. After leaving the party "Alash" in 1919, he participated in the formation of Soviet power in  region of Irtysh river of  Pavlodar .
Zh. Aymautov is an author of 4 novels, 10 plays and more than 50 stories. He is also the author of children's fairy tales. In 1918, J. Aimautov and M. Auezov published a literary journal "Abai" in Semipalatinsk. The first editor of the journal was J. Aimautov.
A tragic role in the fate of Zhusupbek Aimautov was played  Stalin's letter about  newspaper "The Akzhol" ( The bright way). The letter put the beginning of a campaign to eliminate the national intelligentsia from social and political activities. The main blow fell upon the national intelligentsia, first of all on cultural figures. Zhusupbek Aimautov became the first victim of the wave of Stalinist repression in Kazakhstan.
In 1925, according to various denunciations, J. Aimautov was expelled from the Communist Party (he joined in January 1920), was brought to trial, but was soon acquitted. In four years, he suffered the fate of his colleagues of the government of "Alashorda". On May 20, 1929 Zhusupbek Aimautov was again arrested, allegedly for participating in an underground bourgeois nationalist organization.
On April 4, 1930  he condemned by decision of the Board of the OGPU (Uninated State Political administration) at the  SNK (Soviet of Native Commissar) of USSA  sentenced under articles number 58-7, 58-11 and 59-3 of the Criminal Code of the RSFSR to the death penalty – execution. On April 21, 1930 the verdict was carried out in Moscow. Zhusupbek Aimautov buried at the Vagankovo Cemetery in Moscow.