Mustafa Shokai
Maria (Gorina) Shokai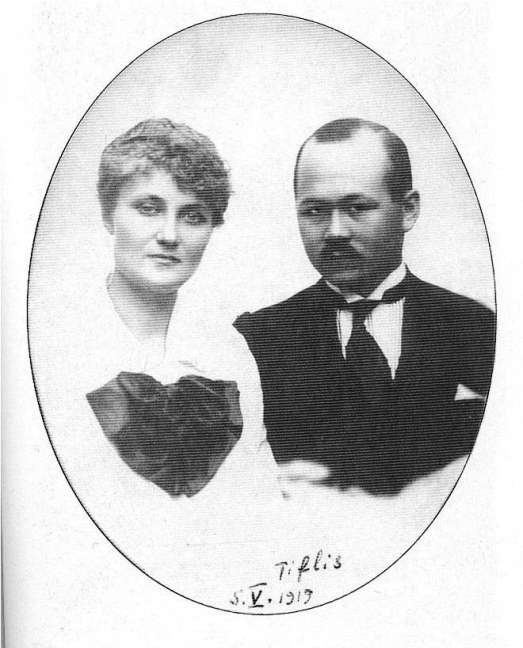 The interethnic marriage of the controversial but iconic Kazakh politician Mustafa Shokai and the Russian actress Maria Gorina is remembered with a bright passion, deep devotion and full of dramatic events. Maria Gorina left everything: her husband, settled life, scene, and wealth for Mustafa. Although the Shokai family will face many everyday difficulties in emigration, Maria will not regret her choice.
Maria Yakovlevna Gorina was born on February 22 in 1888 in Vilno city, Lithuania. She is Russian aristocrat. She was an opera singer with a Petersburg conservatory education in the past, sacrificed everything for Mustafa.
They got acquainted in Tashkent, when were as guests in mutual acquaintances. Maria was beginning singer and actress, and spouse of a Tashkent lawyer. A little bit later Maria divorced with his husband and will planned to move to Moscow, for to become opera singer. In this time M.Shokai is being in opal, in Tashkent. She has helped him to find conspiratorial flat and after few months they were deciding to be together. They got married on April 16, 1918 in one of the Tashkent mosques and secretly left Tashkent city. But their train reached Aktobe city because of fighting in that time. Mustafa stayed in Ufa and in Omsk about the year, engaging in anti-Bolshevik activities. In 1919 Mustafa and Maria re-joined in Tiflis. In 1921 Soviets had overthrowing Georgian republic. So they emigrated in Turkey, where experienced difficulties with lodging and finance. Having known, that old acquaintances of Mustafa by The State Duma – Kerenskyi, Milyukov and Chaikovskyi were running from Russia and settled down in Paris, Mustafa was deciding to follow them. Mustafa and Maria were locating in small town Nogent-sur-Marne near Paris, where they have lived all their remaining life.
On January 8, 1997 in newspaper "Kazakhstanskaya pravda" (Kazakhstan true) on the basis of this archive – correspondence of Maria Yakovlevna with representatives of Turkestan and Russian emigration – will published featured article "Maria Shokai: I always with you in thoughts…". She told about memories of Alim Almat: "Violinist confessed, that precisely music (Maria Gorina-Shokai was a singer) was their general passion, which helped their mutual understanding, was islet in their vain emigrant life, they were finding peace and self-confidence in it…".
Having been published, her diaries and Mustafa's letters reveal tenderness and trepidation of feelings, which couple could keep to each other despite to all difficulties. But after all on memories the family sometimes tritely was nothing to eat. There were episodes of life together, when Mustafa changed clothes for meal, but Maria sold set lunch, to somehow feed them. But even after so many difficult years together, Shokai was expressing own unchanging love in the best heartwarming expressions in letters to wife: "Take care of yourself, my dear! Please burn the letter on reading. I kiss you. Your Mustafa". M. Shokai died in Berlin hospital in 1941. He was buried in Berlin. According to the official version he died on consequences of typhus, which is got infected in camp. But Maria was convinced that he was poisoned as he has immunity from the rash stick. Mustafa Shokai was buried in Turkish Muslim cemetery (Ottomans) in Berlin. On tombstone a bit below of date of death by the will of his wife three Latin letters and four numbers are written: JOH.15.13. It points out thirteenth verse of fifteenth chapter of Gospel of John, which says: "There is no more love as if someone who lays down a soul for his friends".
Maria died in France, in nursing home, but before the death she contributed to convey information about life and activity of her husband. Due to the Maria Gorina works of Mustafa Shokai hasn't lost and destroyed, it has reached readers.
Maria Gorina was buried in spring in 1969 in Chelles. Lands are not sold in France. Even land on cemetery is rented. And so anticipated her death, in 1965 Maria Gorina paid for the land herself, where she must be buried. And it turned out that term of rent will end in 2015. Senator Murat Mukhamedov, chairman of fund named after Mustafa Shokai Bazarbai Atabayev, veteran Turganbai Makhanov paid necessary sum and prolonged term of rent of land for another 50 years.
After the death of Mustafa Shokai Maria Yakovlevna adopted a young man Alim Almat, who was captured during the war. Upon returning home he would be wait Stalin's punishment – camps for "traitors of motherland".
Alim Almat so stayed in Europe. He became the first violinist from Kazakhs. He firstly has heard about Mustafa Shokai from Amre Kashaubayev when studied in Almaty School of Music. He knew Mustafa only by Maria's stories. Alim Almat lived together with Maria Shokai since 1948 till 1950 in Nogent-sur-Marne city. Maria conveyed documents, letters of Mustafa Shokai to Alim and asked him to carry to the motherland. In 1971 historical documents for the first time were published in Istanbul on Kazakh and Turkish languages.
Bibliography:
Sadykova, B. I. Mustafa Shokai in emigration. – Astana: Foliant, 2011. – 248 p.
Mukanova, G. Mustafa Shokai and Tekin cavalry. The Mysl' (The thought). – 2019.- №1.- p.72-82
Sadykova B. Mustafa Chokai in promethean movement. Paris, L'Harmattan, 2007. – 410 p.
Validi T.Z. Memories. The fight of Turkestan Muslim and other eastern people for national existence and culture. Translation from Turkish. – Moscow, 1997. – 98 p.
Panfilov A. Mustafa Shokai. Russian political parties. The end of XIX – first quarter XX centuries. Encyclopedia. – М.: Progress, 1996. – 710 p.
Shokai, M. Turkestan is our general cradle. V.1: Turkestan is in documents from personal archives of Mustafa Shokai. – Almaty: Qazygurt, 2011. – 400 p.