Kadyrbayev Seidazim (1883-1938)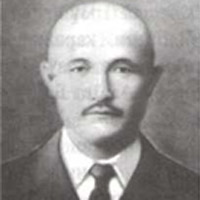 Kadyrbayev Seidazim Kulmukhamedovich is a well-known political and public figure in Kazakhstan, a national teacher, a professional lawyer, the author of the constitution of the Kazakh autonomy, which failed at the beginning of the 20th century. He was born in 1883 in the Kustanay district, the village of Turgay. He took part in the development of the Kazakh constitution and in all important political moments in the fate of Kazakhstan in the pre-revolutionary period. He was in the leadership of the "Alash Orda" party; he was a very educated man for his time. He studied at the University of Dresden, and then taught at the Orenburg University.
Arrested on September 14, 1930 by OO PP OGPU KSSR (United Political State Department of KSSR). At the time of the arrest, a native of the village №1 of the Naurzum district of the Kustanay region of the Kazakh SSR Seidazim Kadyrbayev lived in Voronezh, where he worked as a lawyer for the Rossovkhoznab (Russian Soviet Agriculture provider).
On February 4, 1938 Kadyrbayev Seidazim was arrested by the UGB (State security department) of the UNKVD (The people's Commissariat of Internal Affairs) in the Voronezh region. By the decision of a special troika of the NKVD in the Voronezh region of October 11, 1938, he was convicted and sentenced to be shot with confiscation of property, and on October 17 of that year the sentence was carried out. He was rehabilitated on January 22, 1958 by the Supreme Court of the KSSR, the grounds: for lack of corpus delicti.
The monument to the victim of political repressions Seidazim Kadyrbayev was installed at the memorial complex in the suburban Voronezh settlement of Dubovka on July 3, 2009.