Syrtanov Barlybek (1866-1914)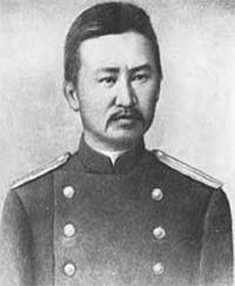 Syrtanov Barlybek  is a  linguist, public figure, lawyer, publicist, medical scientist, orientalist.
Barlybek Syrtanov was born in the Kapalsky district of the Semirechensky region in 1866. At the age of 10 B. Syrtanov entered the men's gymnasium in  Verny. In 1886 he completed his studies with honors. Despite life's difficulties and social problems, Syrtanov wanted to contine his education. The director of the Vernensky male gymnasium D. Novak noticed the excellent abilities and perseverance of Syrttanov. He asked grant from the military governor of the Semirechensk region for education  of Syrtanov at St. Petersburg University.
In 1886, Syrtanov entered the Faculty of Oriental Studies of St. Petersburg University. In 1890, Syrtanov graduated from the Faculty of Oriental Studies of St. Petersburg University and received a diploma with honors in the specialty: Arab-Persian and Turkish-Tatar languages. B. Syrtanov is the first Kazakh who received a higher, university education from the Semirechensky region.
In 1889-1908, Syrtanov was in responsible work in the Semirechye regional administration. In 1903-1907, he actively participated in the study of the border strip between Russia and China. The results of the researchers  used in the work.. In 1911-1915, Syrtanov actively cooperated with the magazine "Aikap". It  was published in the Kazakh language in Troitsk. Syrtanov could found grant to the Seytbattal Mamanov school for Kazakh children in Kapal in 1909. Later S. Mamanov, then Syrtanov, Esenkul Mamanovs built a school and became patrons of Kazakh youth.
In 1911 Barlybek to report to the tsarist authorities the plight of the Kazakh people went to St. Petersburg. On behalf of the population of Zhetysu he wrote a petition, where he boldly showed the aggravated land issue, the extremely difficult situation of the Kazakh people. B. Syrtanov, as one of the leading Kazakhs of that time, opposed the colonial policy of the tsarist government and the reactionary policy of P. A. Stolypin. In 1911, B. Syrtanov developed the "Charter of the country of Kazakhs". According to this program the Kazakh region as  a separate state with the status of a republic. The charter consisted of many articles. The main idea of ​​the charter was the acquisition of political independence by Kazakhstan, its recognition not as a Russian colony, but as a Russian dominion (in fact, an independent state within the empire, an ally). In its foreign policy, Kazakhstan should have been under the patronage of Russia, and in its internal policy, it should have belonged to itself. Subsequently, these ideas of B. Syrtanov became the basis of the program materials of the party "Alash".
The life path of B. Syrtanov ended on November 26, 1914 at the age of 48. He died of pneumonia. The obituary for the magazine "Aikap" by M. Tynyshpayev was written. He buried in Kapala.